Platinum Naturals Easymulti Prenatal
You want what's best for you and your baby.
In one softgel a day, Prenatal Easymulti is a comprehensive multivitamin for pregnant and nursing mothers and those trying to conceive. It features a complete range of vitamins, minerals, and DHA for a healthy mother and child. Prenatal Easymulti is recognized by the Society of Obstetricians and Gynaecologists of Canada, the leading authority on reproductive health care that produces national clinical guidelines for both public and medical education on important women's health issues.
Key Ingredients:

DHA:

 

DHA is important for your baby's brain and eye development as well as their hand-eye coordination. If you are like most women, however, you're probably not getting enough DHA from your diet alone.
Iron:

 

Iron deficiency is common in North America, affecting approximately 20% of women in their childbearing years. Supplementing with iron will help reduce fatigue, increase stamina and resistance to infection.
Folic Acid:

 

Folic Acid is required for protein synthesis and hence is essential to support a woman's increased blood volume during pregnancy. Also, folic acid has been shown to decrease the incidences of developing neural tube defects.
Vitamin D:

 

Pregnant and nursing mothers are encouraged to increase their Vitamin D intake in order to maintain their own bone density and to optimize the musculoskeletal development of the fetus.
Calcium:

 

EasyMulti® Prenatal DOES NOT contain calcium as it inhibits the absorption of nutrients, such as iron, and hence should be taken separately. Platinum developed Prenatal Calcium to complement the needs of pregnant and nursing mothers.
Recommended Use: Helps to support normal early fetal development and the development of the brain, eyes, and nerves in children up to 12 years of age. Helps to reduce the risk of neural tube defects when taken daily at least three months prior to becoming pregnant and during early pregnancy. 
Recommended Adult Dosage: Take one softgel daily, with food or as directed by your health care practitioner. Take a few hours before or after taking other medications.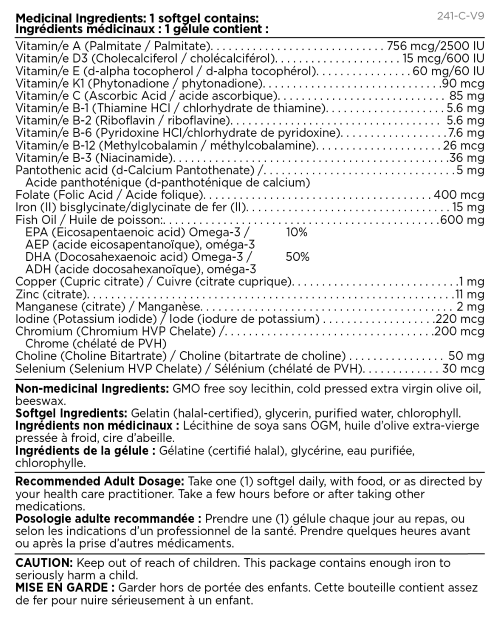 Caution: Contains vitamin K. Consult a health care practitioner prior to use if you are taking blood thinners.
*Results may vary from person to person